South By Southwest, or SXSW – one of the largest tech and innovation conferences across the globe – was back in full swing this year, drawing in people from around the world to downtown Austin, Texas. Attendance seemingly superseded last year's by a long shot. For some sessions, lines were so long that some attendees were  relegated to watching on the SXSW mobile app later on.   
As for the content, last year was buzzing with crypto, Web3, and DAOs (see last years' takeaways here). This year had a broader set of tracks that played to a wider audience, with topics ranging from climate change to generative AI to XR & the metaverse to therapeutic applications of psychedelics.
The Silicon Valley Bank (SVB) news coincided with SXSW's kickoff, and I went into the first sessions unexpecting what we would make of SVB and the implications of its downfall. SVB has been at the heart of the startup ecosystem for decades, and while the rest of the world news hadn't caught onto the magnitude of the impact, it was near and dear to many of SXSW's attendees. SVB was mentioned at least once in every session and event I attended, even after the FDIC takeover. 
Corporate Innovation: Seeing Beyond the Looking Glass
We were delighted to co-host a roundtable to delve into corporate innovation with our friends at Nucla (formerly KITE), a platform for users to centralize, manage, and share data on companies. Against the backdrop of the SVB bank run (and anxiously awaiting FDIC's decision on backstopping deposits), Mark (CEO and founder of KITE) kicked off our roundtable with a reminder that while "predictions can fail, predicting is essential." This resonated deeply with the group, and as we spoke about SVB, we drew parallels to this sentiment ringing true for corporates who are facing constant threats for disruption, or as we would see it, opportunities to break out from the pack. 
During this conversation, the group around the table agreed that corporate innovation programs are instrumental in helping predict what's around the corner and develop paths to action. Yet, so many corporates are launching and shutting down corporate innovation arms due to failed attempts at generating these outcomes. We identified two key misgivings many corporates make that significantly hamper innovation:
Innovation teams need to be where innovation is happening, which is not always where HQ is. This is important, both for talent acquisition and to detect early signs of the direction innovation is heading.  

Corporates need to understand what is happening on the ground in the startup ecosystem, and there's no better way than by speaking directly to startups to understand how they're approaching problem solving and how corporate-startup partnerships can help their solutions reach scale.
The latter is the kind of community we aim to foster at Silicon Foundry. During our DiscoTech Networking Happy Hour at SXSW, we brought together key players from across the innovation ecosystem to create an environment where exciting ideas can take shape, and new possibilities can emerge.With the SVB dilemma, we saw founders triaging the damage in real-time by making calls to open new bank accounts and secure emergency funding to make payroll.  Investors in attendance were questioning how they can support entrepreneurs who banked with SVB.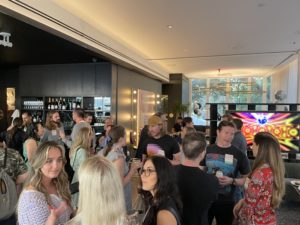 Power of Data in the Hands of Generative AI (and Data More Generally) 
During SXSW, generative AI was one of the most-frequently cited game changing technologies of this decade. "You will never think on your own again," proclaimed Amy Webb (CEO of Future Today Institute). Webb explained that, with advances in code, computing and hardware, we have unlocked a new internet where there will be a continuous transfer of information into AI systems. In a session on the 10 breakthrough technologies of 2023, Elizabeth Bramson-Boudreau (CEO & Publisher at MIT Technology Review) highlighted the groundbreaking nature of Generative AI, and specifically how AI can now generate images from text.  This left the audience with many questions around what constitutes "art" and the implications on "truth" in a new world of deep fakes.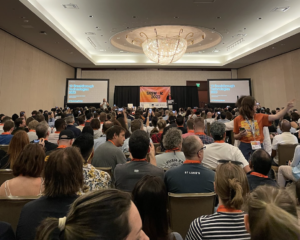 Throwing fire on the flames of excitement, ChatGPT announced the release of GPT-4 during SXSW, highlighting the continued growth and potential of generative AI. Interestingly, data and parameters for "good data", both hot topics at SXSW, play a large role in improving the technologies and algorithms that power ChatGPT. During a session on The Breakthrough of Alternative Data, Anna Tye (Managing Director at Carlyle) and Vinicius Vacanti (CEO at YipitData) described how ChatGPT can be utilized to ask for insights on large sets of data.  Vacanti emphasized the importance of using high-quality data to train AI models, going so far as to say, "No data is better than bad data." Undoubtedly, data will be the great differentiator for companies in the AI era, and we will have to grapple with unanswered questions about who will own the data (and who will be responsible for data privacy) that runs through ChatGPT and similar technologies. 
Diving Deep into Climate Tech & Going Below the Surface of Deep Tech
Also termed "greentech" and "cleantech," climate tech has seen a significant increase in attention from private investors and governments. More recently, we are seeing an increase in demand from large corporations who are exploring sustainability strategies and energy transition plans – the top focus areas are renewable energy, carbon capture, and electric vehicles.  Undoubtedly, corporate participation is paramount to achieving net zero objectives across the globe, and many of the largest carbon emitters have only scratched the surface with climate tech.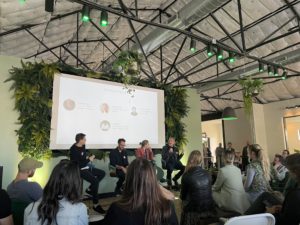 During the SXSW 2033 Climate Showcase event, a group of climate investors at the event agreed that solving our climate crisis is most important over the next 10 years, and things that decarbonize at scale in the near future are critical to buying us time for the breakthrough technologies that will reduce our carbon emissions in the first instance.  Later in the panel, Peter Barrett (Founder & GP at Playground Global) drew the connection between climate tech and deep tech, explaining, for example, the role computing power plays in enabling the requisite modeling to discover and design new materials, and in turn, move us closer to net zero.
This sentiment is not lost on governments.  In the US, the Inflation Reduction Act and CHIPS and Science Act have created significant tailwinds for climate change, providing incentives to encourage semiconductor manufacturing in the US and wide-ranging incentives for climate change policies in areas including the clean and renewable energy industries.  Importantly, the CHIPS and Science Act provides $52.7 billion for American semiconductor research, development, manufacturing, and workforce development, while the IRA directs nearly $400 billion in federal funding to clean energy, with the goal of substantially lowering the nation's carbon emissions by the end of this decade. Outside of these funding levers, I heard various investors mention how grants issued by the Department of Defense to startups have become a strong signal to VCs, allowing these startups a faster path to funding.  
One emerging segment of deep tech, space tech, was raised in many one-to-one conversations I had as an underhyped investment area, with plenty of white space to tap.  Indeed, the global space industry is expected to eclipse $1 trillion over the next few decades.  I expect space to star in the innovation saga for the next few years. 
We're all In(novating) Together
All in all, multi-industry and multi-organizational collaboration was the thread that tied together my experiences and learnings at SXSW.  It really takes a village to solve problems as big as the future of humankind alongside AI, climate change, and financial crises.  Corporate participation and government regulation, alongside technology innovation and capital investment, will be critical in the years ahead if we are to drive true change.  
This article was written by Silicon Foundry Principal, Camille Manso.