Italy is not only recognized as a cultural capital and powerhouse of fashion, gastronomy, and tourism, but more recently, "Bel Paese" has been developing an impressive tech ecosystem worth watching. There are many reasons for such a new renaissance. In this article, we are focusing on the state of the Italian tech and innovation ecosystem in order to understand what is new in the third-largest national economy in the European Union, and why global investors  should consider the opportunity to invest in the hottest startups.
State of the Italian Tech Industry
With over 60 million inhabitants, Italy is the third-most populous member state of the European Union. Milan, the local capital of Innovation, is home to a recently created sustainable tech center called MIND (Milan Innovation District). Several innovative firms are based at MIND, including  SkyDeck Berkeley, one of the most respected accelerators in the world, which has set its first presence in Europe with the goal to permit European startups easy access to the Silicon Valley network. 
While the Lombardy region that includes the city of Milan, has the highest concentration of innovative startups, it's worth noting that cities such as Turin, Bologna, Rome and Naples also have a concentration of universities, research centers, and corporates. The number of innovative startups has increased significantly; +14,000 in 2021, which has been a record for VC activity. For the first time, the market has become worth more than a billion euros, and the first half of 2022 has matched this positive trend, as the graph below shows.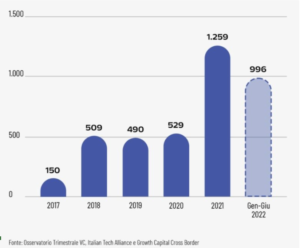 The majority of funding has been focused, as the Startup Italia report shows, in the biotech and software sector. An interesting data point to note is that the amount of foreign VC rounds is constantly increasing as well (+30%).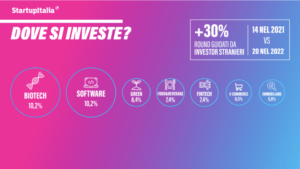 Time to invest?
To understand this rise of VC funding, we reached out to Alessandro Scortecci, head of Strategy and Business Development at CDP Venture Capital SGR – Fondo Nazionale Innovazione. "The Italian VC market has started to show its true potential. It has one of the most fertile environments for academic research (2nd in Robotics, 1st in Life Science, etc.) and entrepreneurial talent in Europe (over 24% STEM graduates).Italian startups have suffered because of the lack of capital., however, since 2020, CDP Venture Capital has started to direct public and private money towards Italian VC, with €1.8Bn AUM and a portfolio of 10 funds covering the entire startup lifecycle, from Tech Transfer all the way to late stage and pre-IPO. CDP VC's investment activity, very rapid and highly selective, has been focused on creating the infrastructure to develop the market (i.e. six tech transfer hubs on key themes/technologies, fifteen acceleration programs on strategic topics, 21 privately managed VC funds), as well as on investing directly on strategic areas where the market was failing (e.g. early-stage deep-tech startups, etc.). This activity has already had a positive impact on the market and it will support its further growth and development in the coming years, catalyzing additional capital from both Italian as well as international investors. The Italian market is still developing, with most startups still focused solely on their home market and with valuations on average below US or international levels, this creates significant opportunities to invest in high-quality companies that, with support from the right investors, can successfully expand in the US market and create substantial value for their shareholders".
Tech Emotion
Silicon Foundry's CEO, Neal Hansch experienced the Italian innovation ecosystem at the Tech Emotion event, an international summit that took place in June, and was organized together with Corriere della Sera, the most wide Italian newspaper. Neal reflected on his experience sharing that "Tech Emotion generated an incredibly  energizing environment and series of discussions that further raise the caliber of Italian innovation by inspiring a willingness to embrace change and take action amongst ecosystem leaders. This enduring energy will help to fuel the attention from global investors, to increasingly not only keep an eye on, but to actively participate in the Italian tech ecosystem."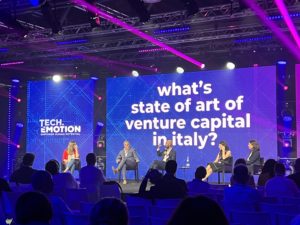 The Hottest Italian Startup this year
This is our selection of the most trending startups in the Italian ecosystem:
1. Scalapay
The fintech company has raised  497M dollars in the last round, which is the greatest operation in Italy so far. It is a payment solution provider that allows customers to buy and pay later, across three installments without any additional interest. 
2. Everli
A marketplace for online grocery shopping where customers can choose groceries from a broad variety of retailers. In April 2022 the startup raised €22M as part of series C funding.
3. Statispay
Fintech business that offers a mobile payment platform and accepts bank accounts. The startup has important partnerships, such as one with Shopify. The latest news is that Scalapay is preparing a new round with Addition, an American VC.
4. D-Orbit
This is  the first in-space transportation company that provides solutions for moving, precise deployment, and removing satellites. In June the space logistics startup announced a $2 million contract with the European Space Agency to upgrade production of its ION Satellite Carrier.
5. Cortilia
A grocery delivery company that offers products from local farmers. They closed a new €22M round  in June, led by Red Circle Investments, the private investment company of Renzi Rosso, Diesel's founder.
This article was written by Silicon Foundry editor, Laura Fois.