With a growing number of organizations and public personas revealing their intent to establish a presence in the metaverse, this evolving digital realm could progress into a $13 trillion dollar industry by 2030. But what exactly is the metaverse? And how does it differ from the decentralized web (web3)? Is the concept just hype or should companies start staking real estate in this alter world and consider their options for recruiting chief metaverse officers? 
All these questions and more were addressed in a recent video session organized by SC Ventures, Standard Chartered's innovation, fintech investment, and ventures arm that invests in disruptive financial technology. Here's the full recording:
In this conversation, Kevin Brisebois, Brinc's Director, Corporate Innovation & Partnerships; Victoria Wells, R/GA's Strategy Director, Web3 & Metaverse; and Mathew Sweezey, cofounder of Salesforce's Web3 Studio, discuss the ins and outs of the metaverse and what it means for brands with Simon Figures, who leads partnerships and innovation at SC Ventures. 
Specifically, the panel addresses:
Our move into the metaverse and adoption of web3.

The social potential and other opportunities for companies and brands.

Ownership and regulation of metaverse.
Into the Metaverse and Web3
Let's start with a definition: the metaverse is the 3D virtual-reality space in which users can interact, play, and work in a free flowing social and immersive way. The metaverse is linked to web3, which is touted as the future of the Internet. Both are decentralized technologies that rely extensively on blockchain technology and AI. There are definitely some barriers of entry if users do not have AI tools, which is why the panel members agree we have not fully realized the technology to act in the metaverse. We are still very much immersed in what could be the final stages of Web 2.0.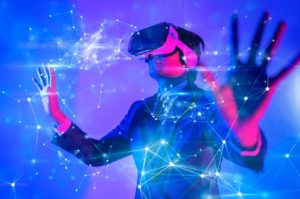 The Social Potential and Other Opportunities for Companies and Brands
As Sweezey points out in the session, the metaverse is characterized by a co-creative world, in which anyone could construct their own economy and build a flow of neverending social interaction. This translates to huge opportunities for brands to even create new product lines and further personalize consumer experiences. 
In the map below, it is clear how significant the market could be for different sectors and companies, from Nintendo to Samsung to Shopify and Roblox, just to mention a few. Companies should concentrate on what to test in this extension of the real-world and how to create value for the company and customers. Today the metaverse has been used mainly for entertainment and games. There's a whole frontier waiting to be discovered and built. And that means a lot of work for creatives!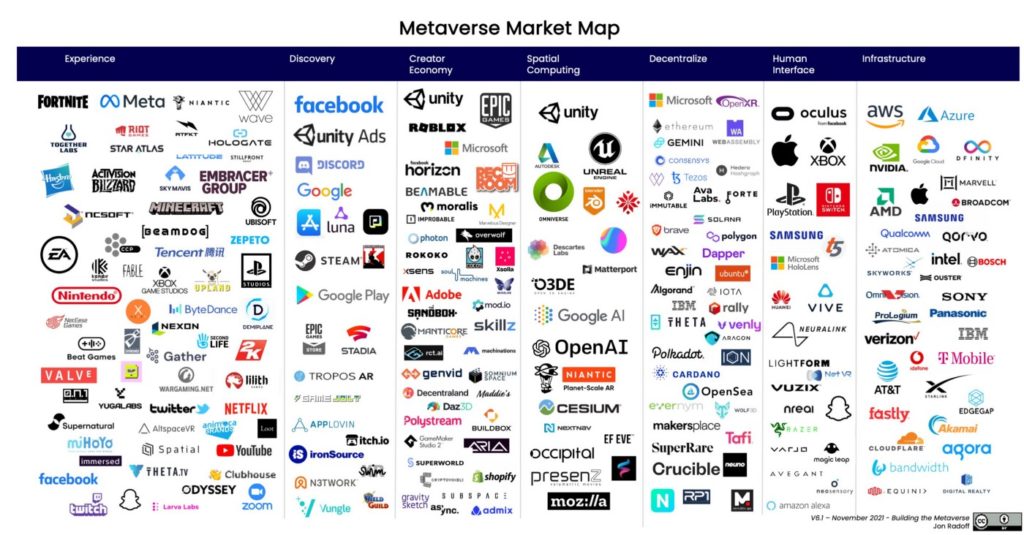 Ownership and Regulation of the Metaverse
In the metaverse, brands can build their own worlds and platforms or they can create a presence on existing platforms and alter realities. These are the two dimensions of the metaverse: one centralized (powered by private platforms such as Facebook or Epic Games (the creators of the popular game Fortnite) and the other one decentralized. The most popular existing platforms are Sandbox, Decentraland, Cryptovoxels, and Somnium. 
As several of the panel speakers pointed out, it seems regulators are not yet ready for the metaverse. Right now, this digital realm is in the hands of creators and engineers, so another challenge that needs to be addressed is the one linked to digital ownership and whether or not governments should play a role. 
There are a number of predictions surrounding how the metaverse will change business operations, especially given the blockchain revolution. For example, Wells suggests that smart contracts would redefine fundraising for nonprofits. 
To get ahead of the curve and fully exploit this next evolution of digital, companies will also need to consider if they should hire or recruit a metaverse expert. In recent news, Accenture announced that 150,000 new hires will spend their first day of work in the metaverse. 
With all this buzz, what are your plans for the metaverse?
This article was written by Silicon Foundry editor, Laura Fois.