The omicron surge meant that this year's Consumer Electronics Show (CES) was a little different. As a first-time CES attendee, I was excited to discover all the conference had to offer, despite the disruption from the pandemic. Here's what I learned along the way.
#1: Event Organizers Found Innovative Ways to Ensure Everyone's Safety and Comfort
A few days prior to the conference, the Consumer Technology Association (CTA), the company putting on CES, sent out an email with a laundry list of preparations that needed to be completed by attendees prior to attending the conference.
They asked us to download the CLEAR app in order to upload proof of COVID-19 vaccination to its Health Pass product, which we needed to collect our badges. The CTA spread out badge retrieval sites across key locations including the airport, hotels, and Monorail stations in order to prevent lines and crowds at the convention center. Organizers offered daily complimentary rapid testing for attendees. PCR tests were available too—I noticed a line of at least a hundred people waiting to receive one. I believe CES will likely produce a ton of learnings on how to safely hold in-person events, serving as a model for conference organizers as we move into our third year of the pandemic.
#2: Startups Had Their Moment in the Sun
Large companies like Meta, TikTok, Amazon, Google, Microsoft, IBM, and Intel withdrew from this year's CES, putting the focus squarely on startups, who took advantage of the increased visibility.
The smaller turnout made it easy to move around the conference and interact with people directly. I noticed there were a high volume of startups in smart baby tech, wearables, fitness tech, and smart home and appliances. I was particularly interested in ​​Lasso Loop, which helps people effectively recycle their plastics, glass, and metals by checking, washing, grinding, and sorting recycled materials. There's a growing trend in consumers taking on more power and responsibility and the Lasso Loop recycling system seems to let consumers take recycling matters into their own hands.
I was pulled aside by one of the co-founders of Nowatch, and I was immediately intrigued by their claim of being the world's first "awareable," measuring stress and cortisol levels 24/7 with a watch. My initial instinct was to ask whether existing wearables already do this, and to my surprise, the answer was no. By measuring cortisol contribution through skin conductance, the Nowatch is able to draw conclusions about a user's stress levels. Its ability to predict oncoming stress is the main seller for me. In that way, it's a zen guru's dream to anticipate a cortisol spike and practice mindfulness before the stress comes.
When I first saw Daan Tech's dishwasher, I thought of how convenient this would have been in my shoebox apartments over the years with no dishwasher. Bob the mini dishwasher is the world's most advanced autonomous and eco-friendly dishwasher. Not only is it small and convenient, but it comes in a variety of fresh, cool colors and uses only three liters of water per cycle. It was interesting to see the number of smart appliance startups trying to make traditionally larger appliances like dishwashers and washing machines small enough to fit on countertops.
#3: Curated Events Drive Meaningful Connectivity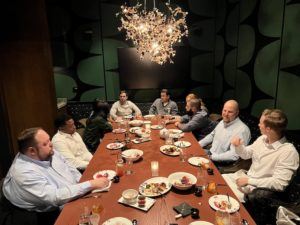 After a stimulating Day 1 of CES, Silicon Foundry hosted an intimate dinner, bringing Members and startups in our network together to celebrate everyone's return to CES in-person. The group gathered at a restaurant in the new Resorts World Hotel for a night of catching up with old friends and making new ones.
On Friday, Silicon Foundry Member SK hynix, held a very successful networking event in conjunction with GFT Ventures, a SF-based early stage frontier technology focused VC firm investing primarily in the US and Israel. The event brought together CEOs, investors, and executives to connect over cocktails and champagne. The volume in the room grew louder throughout the night, and folks had to be peeled off the bar in the corner so it could be packed away for the night. I'd say everyone had a wonderful time.
My big takeaway: bringing a curated group of people together in the right setting unlocks a whole world of interesting conversations.
#4: It's Really Powerful to Connect In Person
Following the SK hynix event, a small, diverse group of founders, operators, executives, and investors spontaneously decided to get dinner together. I had the chance to interact with professionals from a wide range of industries. We learned about each other's families and career, shared crazy stories, and connected the dots between mutual friends from over the years. I felt a strong connection to my dinner peers by the end of the night. There are certain conversations that happen face-to-face that might not surface during a phone call or Zoom meeting. These experiences gave me a taste of the incredible value that can be gained by attending CES in-person.
Conferences create opportunities for people to come together for the regular programming as well as engage with attendees in more private settings. It's in these conversations and activities you are able to build deep, meaning connections that can't be communicated through a screen. Also, you never know who you'll run into. I managed to meet two people from my hometown, one of whom lived in my neighborhood. What a small world.