As the "future of work" and virtual engagement continue on as hot topics, it is increasingly important to understand the landscape of eLearning development players and how these companies can have a positive impact on your business. Matt Bradley, Senior Learning and Development Advisor with OpenSesame, offers expertise on the impact of meaningful learning and development programs, rather than treating them as just another item on the checklist. OpenSesame, one of Silicon Foundry's newest members,  is an emerging leader in enterprise workforce training and eLearning, offering the most comprehensive catalog of eLearning courses from the world's top publishers.
Starting with an overview, learning and development (L&D) is a function within an organization that is responsible for empowering employees' growth and developing their knowledge, skills, and capabilities to drive better business performance. L&D describes everything an organization does to encourage professional development amongst its employees. Examples of activities that fall under L&D are training courses, development programs, online learning, and more.
In his role, Matt identifies the most in-demand skills and training programs, leading global teams to sustainable L&D outcomes. What future trends does Matt see coming for L&D? "Employees don't want to be treated like robots …. we will need more learning that addresses the human condition and what's going on in the world," Matt said. "The difference between telling your employee you care and showing them you care is huge. L&D plays a role in it by backing up what leadership is saying."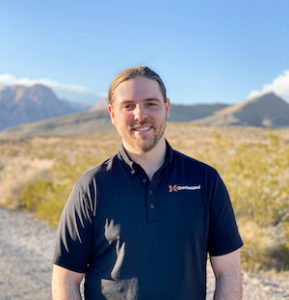 How do you describe your role?
Technology and entire industries are rapidly changing, and I help organizations adapt by reimagining a growth learning culture. I help OpenSesame customers identify the ideal training program or the next steps in their existing training program. I clarify what knowledge they'll need to get there. Wherever they are in the process, I advise where there's room for improvement or how to start from scratch. While I'm always available to talk to customers about their immediate needs, my real goal is to take the time to understand what they are trying to accomplish.
How does your expertise in Learning & Development help your customers? 
I'm always looking at everything from your users' point of view. I encourage customers to ask questions, get feedback, make changes and flow with the data you're getting from your learners to make sure it aligns with what they want. Also, when you build an L&D program, the people using it should have a hand in its design. One of the keys to making an employee feel welcome and valued is to ensure they can use their voice without repercussions. Every company should strive to empower employees without the need to hide behind confidentiality. Also, being able to help learners understand the "why" of what we're going to accomplish, not just "what" we're going to accomplish. Sometimes I hear people say, "we have to accomplish XYZ" but they're not looking at the learner. 
How do you balance the needs of a customer's organization and goals with the needs of an individual? 
You have to have a good level of empathy if you're going to build something someone else will use. Part of the reason we're currently seeing an issue with retention is that organizations aren't providing clear avenues for growth. Transferable skills are key. The growth aspect is crucial in retaining employees. Most companies will say there are plenty of opportunities for you to grow – "here and here" – but we need to say, "here's exactly what that looks like and a roadmap for how you're going to get there. These are the skills you need to grow. Talk about the destination and the journey. 
What trends do you see in L&D over the next five years? 
I predict a transition away from the traditional focus of learning. A good example is a shift away from soft skills. A lot of customer feedback tells us we need to focus and address what's going on in the real world. L&D has been a little hesitant to get into that. Mental well-being and psychological safety need to be priorities now; helping employees adjust to the new working world. We're looking more at ergonomics, mental breaks, and meditation. Employees don't want to be treated like robots. We will need more learning that addresses the human condition and what's going on in the world. The difference between telling your employee you care and showing them you care is huge. L&D plays a role in it by backing up what leadership is saying.
How do you identify the in-demand skills? 
A lot of what I tend to focus on are the skills that transcend across industries. I look at everything from a design thinking approach and the learner population. I also help customers use data, but the best data we get is feedback from the learners and stakeholders. Asking for and being open to constructive feedback is essential to an L&D role. Make sure you're asking the right questions. Instead of saying, "tell us what we're doing well."— you should be saying, "tell us where we can improve and make our program better."
How do you shift a learning culture? 
First, make sure the employees/learners feel they have a voice. When they feel empowered, employees feel their ability to make changes is strong—demonstration of buy-in from the top-down needs to permeate all aspects of the business. Second, you need to actively demonstrate buy-in from leadership, marketing, and management. I always apply design thinking; a concept made popular by Tim Brown, the CEO of IDEO. Design thinking to look at things from your users' perspectives. Ask yourself: "what is this going to look like from a learner's point of view?" Let's ask them what they think will be most effective for them, then ask them for feedback, analyze the data and adjust accordingly.