We ushered in the start of the twenty-first century with massive hype surrounding the emergence of clean energy technologies (cleantech) and their promise of a better tomorrow. More than $25 billion in venture capital flowed into the space between 2006 and 2011, yet only a handful of projects survived that initial frenzy. Back then cleantech was clearly ahead of its time, approached more as a science project than a viable means for addressing climate change. Today, cleantech is once again on an optimistic trajectory. But this time around, the space is cemented in truth and timelines, not overvaluations and hype. 
We've all heard the message loud and clear: governments, businesses, and investors must act faster to reduce carbon emissions. And, collectively, they are sprinting to implement environmental social governance (ESG) policies and meet aggressive net-zero targets. Global investment in the energy transition totaled $755 billion in 2021 – a new record, and a 21% increase from 2020. Investment rose in almost every sector.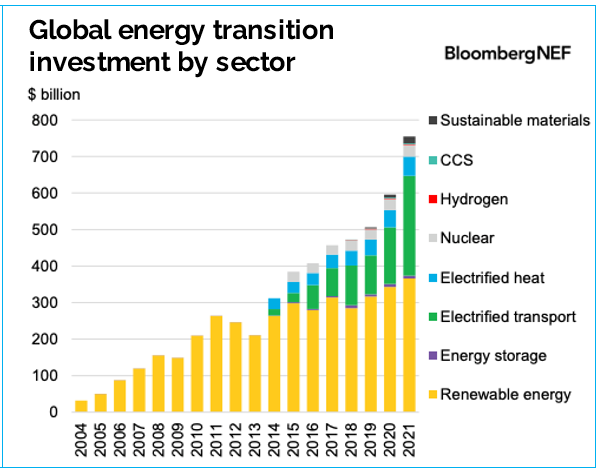 And the space shows no signs of slowing down. Here's what's on the horizon for cleantech in 2023:
Favorable Economics for Cleantech
Today, cleantech or climate tech, more broadly referred to as "decarbonization technology," is an umbrella term covering a range of subcategories – from nuclear fusion to the circular economy and recycling tech to hydrogen and biofuels. The space also encompasses various business sectors, including clean energy, environmental, and sustainable or green products and services. The goal of all these technologies and related concepts is reducing carbon output.
Unlike the transitory excitement around corporate sustainability in the 2000s, the current momentum surrounding these initiatives is supported by economic viability and cost competitiveness. According to BloombergNEF's annual accounting of global investment in clean energy, public and private investors have not only amassed five times the amount of clean energy investment as compared to 2008's "boom" levels, but have also diversified into multiple technological sectors. While cleantech of the 2000s was very reliant upon subsidies and incentives, various categories of cleantech are now self-sustaining.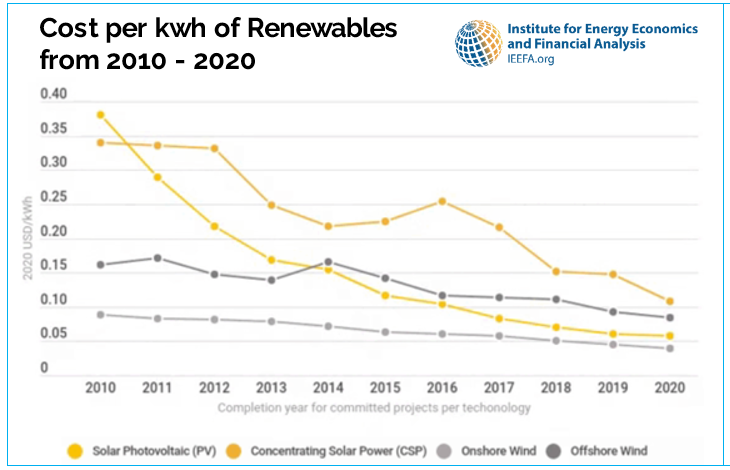 The Inflation Reduction Act Provides Major Incentives for Cleantech Adoption
On August 16, 2022, the Inflation Reduction Act (IRA) was signed into law, establishing the largest shift in U.S. climate policy to date. The IRA directs nearly $400 billion in federal funding to clean energy, with the goal of substantially lowering the nation's carbon emissions by the end of the decade. The historic legislation provides new incentives to supercharge cleantech deployment and accelerate the clean energy transition by extending existing climate credits for things like new wind turbines, solar panels, and batteries and adding a collection of new long-term incentives. 
For example, according to the Environmental Defense Fund, the legislation extends investment and production tax credits for renewable energy and storage through 2032. These credits were previously limited to one to three years, making future planning and any long-term investments in clean energy difficult. Bonus incentives for businesses, worth additional credits, are available for storage projects constructed with equipment and material produced in the U.S. and those located in so-called "energy communities." 
One of the fundamental goals of the legislation is to commercialize emerging clean energy technologies so they become self-sustaining like more mature categories of cleantech. The IRA mitigates supply chain bottlenecks and other threats by investing in domestic manufacturing and deployment of reliable clean energy that will bring down long-term costs. The chart below shows the cost reductions by sector.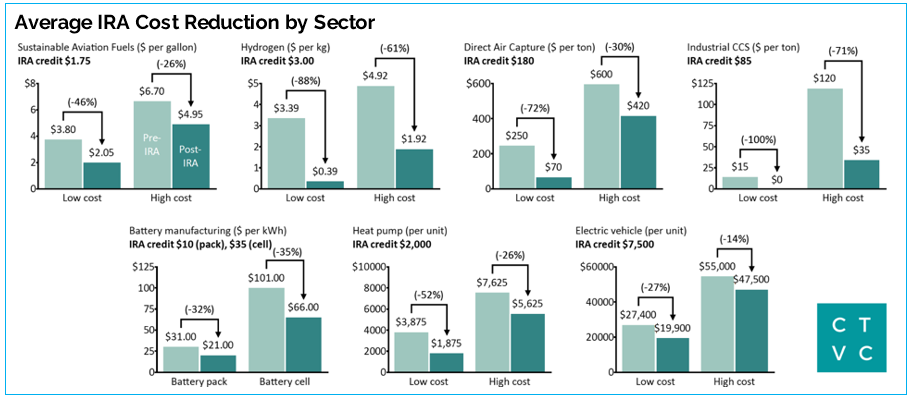 Corporates Establish More Sustainability Funds
During the original boom fifteen years ago, it was easy for corporations to walk away from cleantech as it wasn't viewed as a core piece of business measurement. When asset management firm BlackRock announced "Sustainability as BlackRock's New Standard for Investing" in 2020, nearly every public company took notice and added ESG to their agenda. A 2022 Survey of Sustainability Reporting by KPMG noted that 96% of the world's leading 250 companies now report on sustainability performance, a rate that's likely to increase as new regulations on non-financial reporting are introduced. Companies who do not adjust their business processes for this green future will struggle to retain and acquire investors, customers, and employees.
Corporations are pursuing various avenues for adoption of cleantech and related ventures. One newer trend is implementing sustainability funds as separate funding vehicles from their corporate venture capital (CVC) arms. A fund with dedicated personnel and capital is capable of making curated, targeted investments in decarbonization technology and enabling investments in next-generation sustainable solutions that benefit the broader environmental movement. 
Startup-Corporate Collaborations Provide Testbeds and New Use Cases for Cleantech
Corporations are increasingly looking for technologies that appear relevant for their decarbonization efforts. A major benefit of startup-corporate collaborations is to make these technologies more accessible and affordable, in addition to increased innovation. If an industrial company, for example, is operating a factory with high carbon emissions, they might be interested in carbon capture technology so they can extract the CO2 and either store it or use it for something else. Rather than investing in their own research and development, which is costly and time consuming, corporates are entering into pilot programs and trials with startups who are developing these kinds of technology. 
For startups, these collaborations provide testbeds and new use cases for cleantech and often enable young firms to work at a scale that may have been unavailable to them previously. These collaborations also help overcome the barriers related to entering new and emerging markets, overcoming political division and bureaucracy and enhancing and streamlining the supply chain. Supply chain issues have had a profound negative effect on solar PV panels and battery production.
Dollars Pour Into Traditional Cleantech, but Battery and Energy Storage Gain Momentum
In the weeks and months ahead, there will be continued dramatic investment in traditional cleantech, mature subcategories like solar and wind, because of their cost competitiveness with other alternatives. Crunchbase reports that despite the economic slowdown, renewable energy had its second-best year ever in 2022. Companies in the renewables space had already raised around $7.6 billion as of November 2022.
Battery and energy storage, which are tied to the projected growth of electric vehicles and other forms of cleantech, will also gain significant momentum. Under the IRA, standalone storage systems will be eligible for a 30 percent investment tax credit (ITC) — and up to 70 percent with additional incentives. Nuclear, hydrogen, and carbon capture will also receive continued investment, but since they are less mature and more complicated technologies. they don't yet have the same fundamental drivers. 
When all is said and done, 2023 will be a year of ever-increasing climate ambition and policy action from countries around the world. Talent will continue to migrate toward cleantech because of the massive opportunities and fundamental mission, as the general public and investors continue to explore and participate in the energy transition on a global scale.

By Neal Hansch and Erik Terjesen